Come Wind or Rain, Trot to Clot Supporters Won't Be Deterred!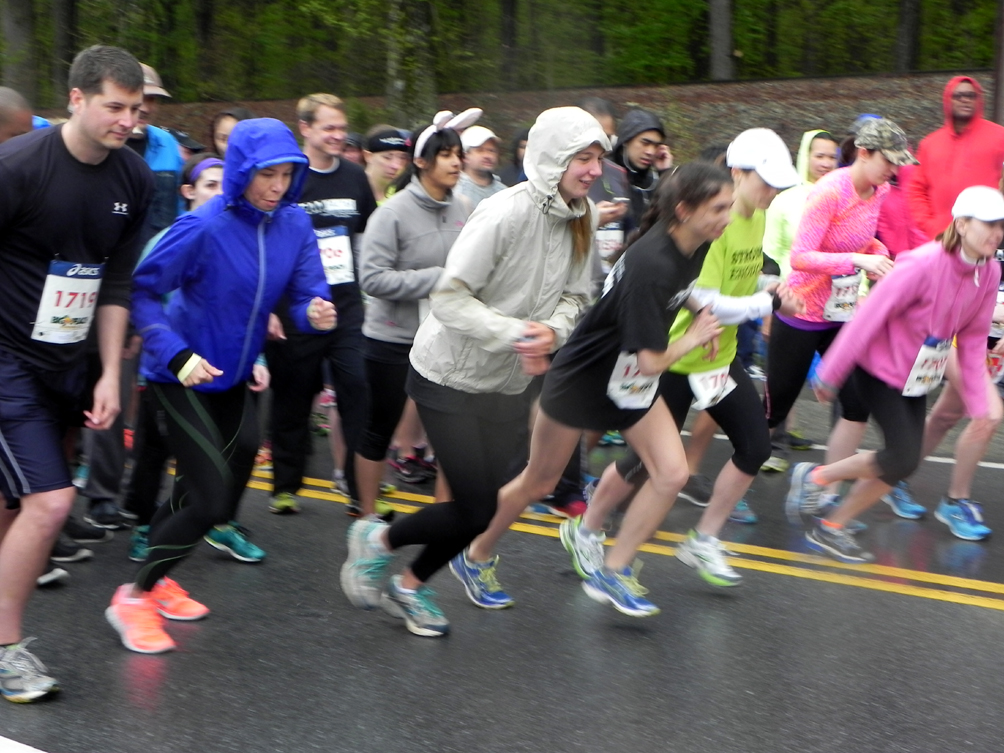 By Kirstin Downie, Director of Development
HoG staff anxiously watched the forecast for rain go from zero to 100 percent chance with a wind advisory for the Saturday, April 19 Trot to Clot walk and run at Stone Mountain. The staff made additional preparations early on the morning of the event…4 a.m. early. Armed with Dunkin' Donuts coffee, staff excitedly made their way to Stone Mountain Park, holding a collective breath that the weather would hold off.
The energy was palpable at Stone Mountain Park. Something happens to people when they get the chance to spend a few hours in the rain; young or old you can't help but laugh a little harder when you are soaked. While we didn't quite see the sun, the rain came and went, and over 150 smiling faces came out to play, walk and run in the rain, and most importantly, to help raise money for Camp Wannaklot.
A special thanks to the many supporters of the Trot to Clot, those who volunteered, participated, fundraised, and donated. We also thank our generous sponsors of the Trot to Clot at Stone Mountain, many of whom came out to the event: Baxter International, CSL Behring, Novo Nordisk, Pfizer, Biogen Idec, Green Oaks Dental, Williams, Benator & Libby, North Atlantic Primary Care and Resurgens Spine Center.
We've raised over $48,000 for camp so far. Please help us reach our goal of $75,000 by participating in the next two Trot to Clot walk and runs. On Saturday, May 31 we'll hold the second annual Augusta Trot to Clot at Savannah Rapids Park. We've added an 8k run on the beautiful canal trail for our longer distance runners and those looking for a challenge. Bring out a team and participate in the t-shirt contest to win great prizes. Top male and female runners and top two individual fundraisers will also receive awards. Registration prices increase on race day so make sure you register in advance.
On Saturday, June 7 we'll hold our inaugural Lawrenceville Trot to Clot at Coolray Field. Registration for this new walk and 5k run includes a ticket to a Gwinnett Braves game on Sunday, June 8. We will celebrate Hemophilia of Georgia Day at the park so don't forget to come out in your new Trot to Clot t-shirt on Sunday and visit our silent auction table.
Stay tuned to Facebook for Trot to Clot announcements or visit www.hog.org/trot. Questions? Contact Kirstin Downie at kmdownie@hog.org or (770) 518-8272.