Employee Spotlight - Deniece Chevannes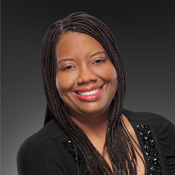 This month's featured employee is Deniece Chevannes, MPH, MCHES, Director of Health Promotion and Evaluation. Deniece is originally from Panama City, Panama. After graduating from college, she followed her family to Georgia and fell in love with the mild winters, southern charm, and great food. She comes from a big family and loves teaching her nieces and nephews Spanish and all about Panamanian food. Deniece has been with Hemophilia of Georgia (HoG) since 2011.
When asked how she chose her profession, Deniece told HoG, "I didn't choose it. It chose me. In college, I was working as a medical case management translator and realized there was a public health need for someone who could speak both Spanish and English and understood Latin culture to help people manage their medical needs." She decided to pursue public health and never looked back.
Deniece loves serving the HoG community in Georgia, collaborating nationally, and helping in underserved areas around the world. Deniece championed a "twinning" project in Bolivia, where hemophilia was officially recognized, and treatments made available for the first time. She also mentors Hemophilia of Georgia's youth leadership program and HoG Junior Board. She is grateful for the opportunity and shared, "These young leaders energize me and give me hope for the future of our world." Besides mentoring these bright young people, her favorite HoG event is family camp, where she educates families about bleeding disorders. She enjoys the family interaction and watching the children learn and grow.