Joining Hands with You this Thanksgiving
By Trish Dominic, CEO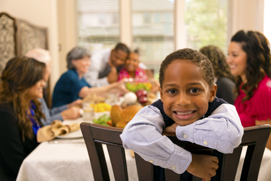 It's time to roast the turkey, mash the potatoes and bake a pumpkin pie. It's also that time of year when we join hands around the table and say our prayers of thanks for all the blessings we've received throughout the year.
I'm pleased that we've been able to share this past year with you, and your family and friends. We've joined hands with you at camp, walks, retreats, clinics, home visits, and family dinners. We've had the opportunity to share many joys with you - your new baby, first infusions, first days at school or day care, first trip to clinic, first factor order, first days at college, first trip away from home, transitioning from pediatric care to adult care, first access to insurance and your continued interest in learning more about your bleeding disorder and how to take care of yourself or your child.
This past year, many of you served as volunteers to help raise money, served as a camp counselor, worked on the Junior Board or the HoG Board, chaperoned at retreats and family camps, worked on special events like our golf tournament and walks, packed supplies and brightened our world with your smiles, laughter and words of encouragement.
You will soon be receiving our annual holiday appeal and I hope you'll take the opportunity to make a donation to help fund research – research that will hopefully bring us closer to a cure.
May we always pause at this time of year to give thanks for one another, and may our hands be joined together for many years to come.