Keep Your New Year's Resolutions: Sign Up for 2015 Trot to Clot Walk and Run Events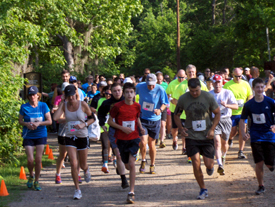 By Kelli White, Special Events /Volunteer Coordinator
With the holiday season behind us, many people are looking forward to making a fresh start in the New Year. Whether you want to accomplish a new goal, change an old habit or become more active, most of us have a resolution in mind.
The 2015 Trot to Clot Walk and Run events can help you meet your goals this year! The Trot to Clots can be a fabulous way to work towards a goal of trying a new activity or walking/running a longer distance. Not only are these exciting events a way to be active and enjoy the outdoors, but you will also be contributing to a wonderful cause – raising funds for Camp Wannaklot and giving very deserving kids the opportunity to attend camp, make new friends, learn about their bleeding disorders, and share new experiences.
Sign up today as a walker, runner, or team! If you don't plan to participate in the race, you can join in as a spectator or volunteer. With your help, HoG can reach the goal of raising $50,000 to send more than 150 kids to Camp Wannaklot, covering program fees, educational materials, and supplies.
Registration is open! The 2015 Trot to Clot Walk and Run events schedule includes:
Stone Mountain Trot to Clot (at Stone Mountain Park) - Saturday, April 25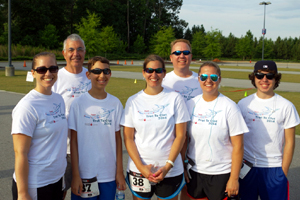 1 Mile Fun Run
5k Walk and Run
5 Mile Run
Sign up today at Active.com.
Augusta Trot to Clot (at Savannah Rapids Park) - Saturday, May 30
1 Mile Fun Run
5k Walk and Run
5 Mile Run
Sign up today at Active.com.
Sign up to walk or run today on Active.com or download an entry form at www.hog.org/trot and mail it to HoG with your payment. Register early to guarantee your t-shirt. Registration prices will increase by $5 three weeks before each event and an additional $5 on event day.
HoG at the Augusta GRU Half Marathon, 10k or 5k

Hemophilia of Georgia is a Charity Affiliate of the GRU Half Marathon and we need your help to reach the Bronze level by becoming one of our 20 registrants! Participate on our team February 22 to help raise awareness of hemophilia and bleeding disorders in the Augusta community.
Register online at active.com and select an individual registration category. (Do not select the team or group categories.)
Once you are in the individual registration form, search for and select the Hemophilia of Georgia team.
All registration categories are eligible to join the Hemophilia of Georgia team.
Half-marathon participants can use the code HOGHALF to receive $5 off of their registration fee.
For more information on participation or volunteering, reach out to Kelli White at kmwhite@hog.org. For details on sponsorship opportunities, please contact Kirstin Downie, kmdownie@hog.org, or call 770-518-8272.