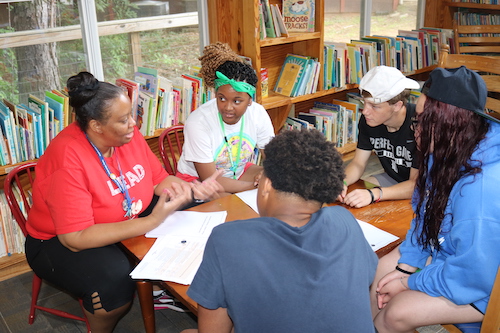 LITs – Learning to Lead by Doing
This past July, Hemophilia of Georgia's Leaders in Training (LITs) met during Camp Wannaklot to plan their activities for the year. Three returning LITs were joined by nine new members for three mornings of self-assessments, team building games and brainstorming on projects. It's all designed so that the teens learn leadership and communication skills that they can immediately put into practice.
Participants in the LIT program are ages 15 to 17 and are either nominated or apply on their own. All must fill out an application and commit to be an active contributor by attending Camp Wannaklot and working on the chosen project. For the next 12 months, the LITs are updating their program materials so they are all digital, including adding more photos and information on the HoG website. The female LITs will be working with the Foundation for Women & Girls with Blood Disorders to develop educational packets for adolescent girls. The male LITs are reviewing the educational materials currently available for teens and children with bleeding disorders to identify what needed information is missing.
Lily, 15 years old, is a first-year LIT. She heard about the program last year from other teens. "I'm looking forward to updating the website, adding new photos." Leaa, a second-year LIT, agrees about the importance of the website in communicating about the program. She says that being a LIT "has made me better as a person – I feel like more of a leader than I did before." Her leadership has been recognized by the National Hemophilia Foundation – she was chosen to speak in three sessions at October's Bleeding Disorders Conference in California. "I think there will be a lot of people, and I am kind of nervous," she adds, though she speaks with confidence.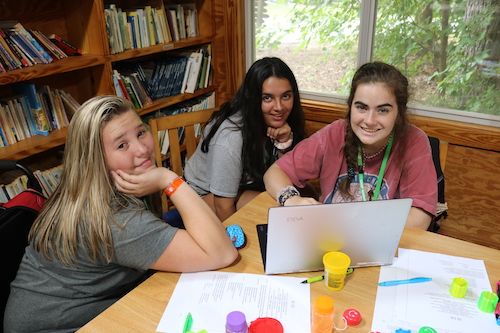 Being a LIT does open doors for future leadership opportunities. LIT graduates have gone on to be a part of the National Hemophilia Foundation's National Youth Leadership Institute (NYLI) and the Hemophilia of Georgia Junior Board of Directors. "I think the LIT program is important because it guides teens in developing the skills they need to succeed despite having a bleeding disorder diagnosis," says Deniece Chevannes, HoG's Director of Health Promotion and Evaluation. She advises and coordinates HoG's Youth Leadership Program along with Kim Williams, Director of Camp and Client Events. "I've seen teens who were initially very shy and quiet become confident, strong leaders. They have found their voices and are now serving the global bleeding disorder community," adds Chevannes.