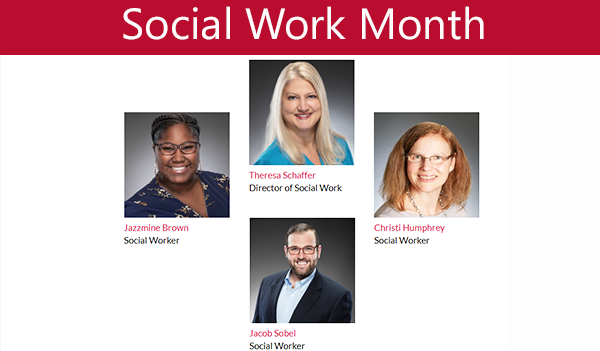 Los trabajadores sociales son esenciales: Hemophilia of Georgia honra su dedicación
Marzo es el Mes del Trabajo Social. A lo largo de este mes, Hemophilia of Georgia estará honrando y celebrando a nuestros trabajadores sociales: Jazzmine Brown, Christi Humphrey, Jacob Sobel y Theresa Schaffer, Directora de Trabajo Social de Hemophilia of Georgia. Estamos agradecidos por todo lo que hacen para ayudar a transformar las vidas de aquellos con trastornos hereditarios de la coagulación todos los días. Los trabajadores sociales son esenciales, y desempeñan un papel fundamental a la hora de defender y ayudar a nuestros clientes a vivir tan normal y productivamente como sea posible, porque sabemos que se requiere tanto más que la medicina. Hemophilia of Georgia presta servicios de trabajo social a todos los que atendemos. Los trabajadores sociales de Hemophilia of Georgia evalúan las necesidades de los pacientes y les ayudan a satisfacer esas necesidades. Nuestros trabajadores sociales pueden hacer lo siguiente:
Impartir educación sobre los seguros de salud, incluyendo cómo obtener un seguro y los programas que puedan ayudar con los pagos de las primas
Impartir educación sobre nuestros programas de apoyo social, incluyendo la atención dental preventiva, el éxito académico y el desarrollo profesional
Remitir a los pacientes a recursos de la comunidad para el apoyo económico o social
Sugerir las habilidades a usar para aquellos que estén experimentando miedo a las agujas
Ayudar a los adultos jóvenes con la transición de la atención médica pediátrica a la atención médica de adultos
Identificar y eliminar barreras para garantizar que las personas usen el factor según lo prescrito
Agradecemos y valoramos los aportes de nuestros trabajadores sociales como parte de nuestros servicios integrales, compasivos y centrados en el paciente. Si usted no sabe quién es su trabajador social asignado, por favor, llame al 770-518-8272.