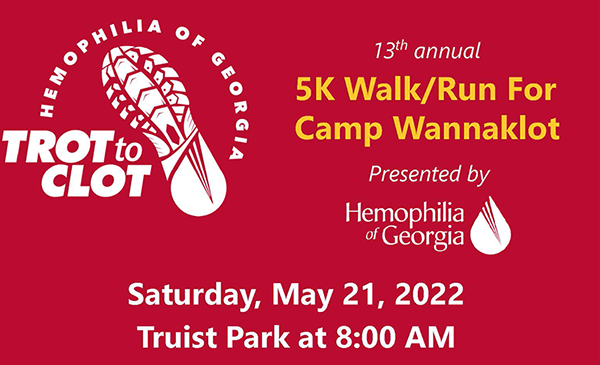 Marque la fecha del evento "Trot to Clot"
Marque su calendario y comience a lograr sus objetivos de Año Nuevo de una gran manera en nuestro evento "Trot to Clot" de 2022, una carrera/caminata de 5 kilómetros, el sábado 21 de mayo de 2022 en Truist Park. Usted puede ayudar a Hemophilia of Georgia a recaudar dinero para enviar niños al Campamento Wannaklot participando en la carrera/caminata "Trot to Clot".
El Campamento Wannaklot es el único campamento de Georgia que les da a los niños y adolescentes que tengan hemofilia y otros trastornos hereditarios de la coagulación la oportunidad de pasar un momento maravilloso, mientras experimentan nuevas aventuras, hacen nuevos amigos, superan miedos y aprenden sobre su propio trastorno de la coagulación.
Hay varias oportunidades de que las empresas apoyen la carrera/caminata "Trot to Clot" convirtiéndose en un patrocinador corporativo. Si usted está interesado en patrocinar la carrera/caminata "Trot to Clot" en mayo, por favor, comuníquese con Vic McCarty, Director de Desarrollo, llamando al 470-621-0585. Pronto estará disponible más información sobre el evento en nuestro sitio web.
Próximos eventos
Hemophilia of Georgia tiene varios eventos maravillosos durante el año. Échele un vistazo a lo que viene.
Carrera/caminata "Trot to Clot" el sábado 21 de mayo en Truist Park.
40o aniversario del torneo de golf "Hit 'Em for Hemophilia" el martes 1° de noviembre en el Club de Golf de Georgia de 7:00 a.m. a 7:00 p.m.