Share Your Story
By Amy Bretherton, Director of Marketing & Communications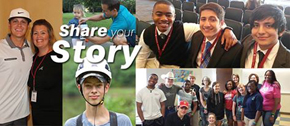 Do you have a story to share? We would love to hear from you. We will be featuring our clients and families whose lives have been touched by Hemophilia of Georgia and honoring their journey. Sharing your story will help increase awareness of inherited bleeding disorders. It may also help ease the apprehension of people who are newly diagnosed and looking for resources.
It's easy to share your story. Just click on the "Share Your Story" feature on the HoG homepage hog.org or you can go to the Share Your Story page: http://www.hog.org/shareyourstory. There are a few simple questions to help get you started and a short form to fill out. Photos and videos that do not exceed 2 MB are welcome. Only first names will be published to protect privacy.
You can make the story as short or as long as you like, as simple or detailed as you are comfortable with. It is your story and you can share as much information as you choose. We look forward to hearing from you! If you have any questions about the" Share Your Story" process please contact Amy Bretherton, Director of Marketing & Communications, at 770-518-8272 or asbretherton@hog.org.