Support Camp Wannaklot 2012
Horizons in Hemophilia, June 2012
By Vic McCarty, Director of Development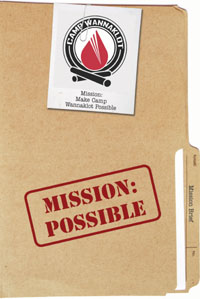 On July 22, 2012, over 160 campers ages 7-17 from all over Georgia will arrive at Hemophilia of Georgia's Camp Wannaklot at Camp Twin Lakes in Rutledge, Georgia. This year's camp theme is Mission: Possible and campers will be encouraged to participate in traditional camp activities, make lifelong friendships, try things that they might have never done before, while learning about living with a bleeding disorders. The focus will be on what is possible and not what limitations come with a bleeding disorder.

HoG depends on the generous support of corporate and individual donors to help send campers to Camp Wannaklot each summer. Camper sponsorships are available at various levels and donors can make a financial contribution to support many aspects of Camp Wannaklot. Please consider making a contribution to support Camp Wannaklot this summer. You can donate online at www.hog.org/donate.

Camp Wannaklot also needs camp counselors. Volunteers must be at least 18 years old and be available from July 21-27, 2012. Please consider volunteering this summer to make a significant impact on the life of a child with a bleeding disorder and help kids learn that at Camp Wannaklot anything is possible! For additional information about volunteering or donating to Camp Wannaklot, contact Vic McCarty at 770-518-8272 or vamccarty@hog.org.