Wannaklot Walk Brick Campaign Ends Soon
Horizons in Hemophilia, July 2012
By Vic McCarty, Director of Development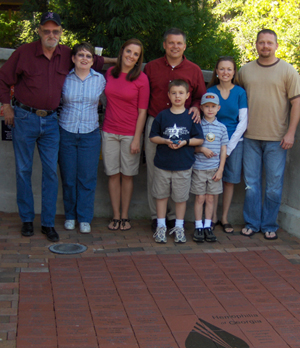 If you have ever visited Camp Twin Lakes for Hemophilia of Georgia's Camp Wannaklot or Family Camp weekends, you may have noticed at the Klaus Welcome Center the beautiful patio area decorated with engraved bricks from generous corporate and individual donors and supporters of HoG.
The commemorative Camp Wannaklot Brick campaign was launched in 2008 as an opportunity for individual and corporate donors to support Camp Wannaklot. HoG hopes that enough engraved bricks will be supplied to Camp Twin Lakes through this campaign to replace all of the plain brick pavers in the Klaus Welcome Center.
The engraved bricks make excellent gifts for recent high school or college graduates, retirees, and new parents and can also be given in honor of someone's long term dedication or commitment to HoG or in memory of a loved one.
Please order your commemorative brick by December 31, 2012 by downloading the order form online. The Wannaklot Walk brick campaign will be discontinued at the end of this year. Please don't miss your opportunity to enjoy a commemorative brick for years to come.
For additional ways you can support HoG and/or make a charitable contribution, please contact Vic McCarty at vamccarty@hog.org or 770-518-8272.