Horizons in Hemophilia August 2012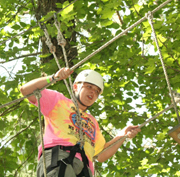 Mission: Possible at Camp Wannaklot 2012
With the theme Mission: Possible, Camp Wannaklot 2012 was a great success.
Here are a few quick facts about camp:
143 campers age 7 to 17 participated in Camp Wannaklot.
Camp Wannaklot was staffed by 97 volunteer counselors, 8 Hemophilia Treatment Center staff members, 6 physicians, and the HoG staff.
Read more and see photos from camp.
Getting The Right Dose of Factor: Why It's Important to You and Your Insurance Company
By Michelle Fitzwater, Managed Care Contract Specialist
Joe has mild hemophilia and does not have to infuse often. At his clinic visit, the hematologist gave Joe a prescription for 1500 units of factor as needed. Joe had recently read a blog about someone's insurance company requiring them to stay within a certain percentage of their prescription and he had several questions for his doctor. Read more.
Little Sleep Can Have Big Consequences for Kids and Teens
By Cathy Hulbert, LCSW, Social Worker
Parents already know that sleep-deprived children and teens can be irritable. But the potential consequences are far greater, according to sleep researchers and other health specialists. Read more.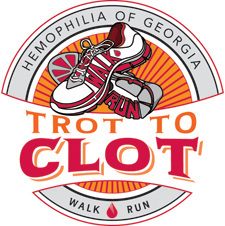 Mark Your Calendar for the Trot to Clot Walk and Run
Plan now to attend the Trot to Clot Walk and Run on Saturday, April 20, 2013 at Stone Mountain Park to raise money for Camp Wannaklot. Plus, we're looking for volunteers to help plan Trot to Clot events in other parts of the state. Read more.
Dear HoG,
I have heard about a service called "Smart911" that allows me to store my medical information with local emergency departments so that they will automatically know that I have a bleeding disorder the minute I dial 9-1-1. Should I sign up?
--Curious Read more.
Family Health and Fitness Day is a Great Reminder!
By Cathy Hulbert, LCSW, Social Worker
Like an alarm clock buzzing to get us up, Family Health and Fitness Day 2012 is a reminder to get up and move as a family. The official day is September 29, so why not plan a family outing at a local park or any place where it is easy to walk? There's no need to wait, of course. Today is a great time to start. Read more.
Women with VWD Risk Postpartum Hemorrhage
Submitted by the National Hemophilia Foundation
Results from a new study suggest that current postpartum strategies do not adequately boost von Willebrand factor (VWF) levels, contributing to potential postpartum hemorrhage in women with von Willebrand disease (VWD). Read more.
View the clinic schedules for the Georgia Hemophilia Treatment Centers.
Have you read HoG's Blog yet?
Find us on Facebook and Twitter.
____________________________________
Hemophilia of Georgia is not engaged in the practice of medicine and does not endorse or support any particular factor concentrate or treatment protocol. HoG recommends that you consult with your physician prior to starting any course of therapy. Occasionally HoG disseminates information on new treatments or therapies. HoG shares this for informational purposes only and makes no claim as to its accuracy or effectiveness.