Horizons in Hemophilia, February 2015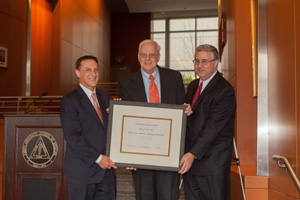 At Hemophilia of Georgia's 40th anniversary celebration in March, 2013, CEO Trish Dominic announced that the agency had endowed the Sidney F. Stein, MD Chair in Hemophilia and Hemostasis at Emory University.
The agency's Board of Directors, Junior Board and management team held its Annual Retreat and Board Meeting at the Legacy Lodge and Conference Center at Lake Lanier.
The American Society of Hematology (ASH) held its Annual Meeting and Exposition in San Francisco on December 6–9, 2014. Each speaker who presented a research report at the meeting also wrote an abstract: a short description of the research question, the methods used to investigate it, and the results.
Are you planning to attend college or technical school? Do you need financial assistance to achieve your educational goals? Now is the time to apply for HoG's John Youtsey Memorial Scholarship. The application deadline is May 1, 2015.
Devin and Dawson are cousins who were inducted into the Mighty Sticker Club together during their holiday break. They both demonstrated how to correctly mix factor and infuse themselves without difficulty.
Don't let the cold weather fool you! The Trot to Clot Walk and Run events are right around the corner. Are you looking for extra motivation to get your team ready for this year's Trot to Clot 5k or 5 mile at Stone Mountain or Augusta?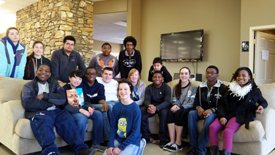 A group of HoG staff members, volunteers, and teens arrived in Asheville, NC for a holiday weekend spent serving the local community and developing their leadership skills
Scientists from the University of Florida in Gainesville (UF-G) and the University of Pennsylvania (U-Penn) continue to investigate an experimental, plant cell-based approach to preventing inhibitors and allergic reactions (anaphylaxis) to clotting factor therapies in people with hemophilia.

We apologize that you may have received the January issue of Horizons in Hemophilia inadvertently this morning.
View the clinic schedules for the Georgia Hemophilia Treatment Centers.
Have you read HoG's Blog?