Horizons in Hemophilia, January / February 2016

I am Sidd Dalal, a camp volunteer and the former Vice-Chairman of the inaugural Junior Board of Directors at Hemophilia of Georgia. Volunteering at HoG has been a blessing and an amazing experience for me.
Advocacy does not have to be intimidating; it can simply be using the power of your voice to share how your life has been impacted by a bleeding disorder. More specifically, how you and your family have fared with access to health insurance and providers. Many legislators are unfamiliar with bleeding disorders and have no clue about the access to care or insurance billing issues that you and your family deal with on a day-to-day basis.
Congratulations to Blake and Nolan for being inducted into The Mighty Sticker Club! We are very proud of you and your hard work.

Each year, Hemophilia of Georgia relies on our dedicated volunteers to support our programs and events. Volunteers are an essential part of our success and we enlist their help at Camp Wannaklot, Trot to Clot Walks & Runs, the Hit 'Em for Hemophilia Golf Tournament, Family Camp, and general office projects throughout the year.
Hemophilia of Georgia offered families in the bleeding disorder community of Georgia an opportunity to celebrate the holiday season together. More than 115 families took advantage of the opportunity to network with other families and enjoy a wonderful day at Callaway Gardens.
Last September, the FDA approved NUWIQ, manufactured by Octapharma for treatment of Hemophilia A. NUWIQ is pronounced as "Nu-veek". It is the first and only recombinant factor VIII derived from a human cell line without chemical modification or protein fusion. NUWIQ is indicated in adults and children with Hemophilia A for on-demand treatment and control of bleeding episodes, perioperative management of bleeding, and routine prophylaxis to reduce the frequency of bleeding episodes. It is not indicated for the treatment of von Willebrand Disease.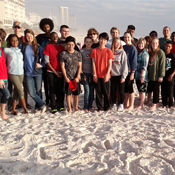 Teen Retreat 2016 started with an early morning check-in at the HoG office. It was a cold morning, but it did not matter. We were heading to Panama City Beach, Florida! As the Leaders in Training, our first order of business was meeting with Ms. Deniece (Deniece Chevannes, HoG's Director of Health Promotion and Evaluation) to discuss our photo/vlog (a blog in which the postings are primarily in video form) journaling project. We decided that we would record our experiences on the trip, document all the fun and interesting facts along the way, and ask the other teens about living with a bleeding disorder.
The Trot to Clot Walk and Run events are fun, family-friendly events that raise money to fund Camp Wannaklot, Georgia's only camp dedicated to children who have hemophilia or other inherited bleeding disorders.
Planning is underway for the 2016 Trot to Clot Walk & Run events. Be sure to mark your calendar:
Saturday, April 23, 2016: Stone Mountain Park 5k Run and Walk
Saturday, May 14, 2016: Lake Olmstead Stadium in Augusta, GA 5k Run and Walk
Election to NAI fellow status is a high professional distinction accorded to academic inventors who have demonstrated a prolific spirit of innovation in creating or facilitating outstanding inventions that have made a tangible impact on quality of life, economic development and the welfare of society.

Creating a strong community has always been the heart of the business at Dunkin' Brands, and Hemophilia of Georgia is proud to announce The Dunkin' Donuts & Baskin-Robbins Community Foundation's (DDBRCF) investment and support of Camp Wannaklot in 2016.
View the clinic schedules for the Georgia Hemophilia Treatment Centers.
Have you read HoG's Blog?