Horizons in Hemophilia March 2012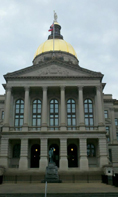 Hemophilia Day at the Capitol
By Michelle Putnam, Associate Director of Advocacy and Research
Thursday, March 1, 2012 was officially declared "Hemophilia Day" at the Georgia General Assembly. Representative Harry Geisinger authored House Resolution 1573, which was adopted by the House of Representatives and recognizes Hemophilia of Georgia and people impacted by bleeding disorders. Legislators were not in session on March 1, but we were able to meet with several high-ranking members of both the House and the Senate. Read more.
Advancing Care Through Technology
By Barbara A. Konkle, MD, Chair, American Thrombosis and Hemostasis Network Board of Directors and Director, Translational Research, Puget Sound Blood Center
Technology is everywhere in our lives. We connect anytime and anywhere by phoning, texting or instant messaging. We "Google" answers instantly and access an ever-growing number of "apps" to manage our finances, play games or log vital health information on the go. But can technology help our understanding of bleeding and clotting disorders? Can it be used to improve care and support the needs of our children? Read more.
Teens Transitioning to Adulthood: How Grown Are You?
By Betsy Koval RN, BSN, Emory/Children's Healthcare of Atlanta, Hemophilia and Bleeding Disorders Clinical Coordinator
What does it take to show you are ready to "man up" or "woman up" as a teen with a bleeding disorder? There are probably things that you already do to show that you are growing up: chores, school work and helping out in the community, to name a few. Read more.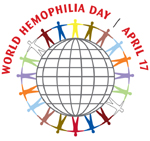 Celebrate World Hemophilia Day
By Trish Dominic, CEO
On Tuesday, April 17th join Hemophilia of Georgia, the World Federation of Hemophilia (WFH) and other bleeding disorder organizations around the world in celebrating World Hemophilia Day. The theme of this year's celebration is "Close the Gap" of care around the world. Read more.
Client Spotlight: Jennifer S. and the Secret Elves
By Karen Daniel, Marketing and Communications Director
Jennifer is a busy mother of two, a wife, a step-mother, a FedEx employee, an Avon Representative and the founder of Secret Elves, a new non-profit organization. Jennifer and her husband Chris are the parents of an 11-year-old son named Dylan and a baby daughter Reagan who was born in July. Jennifer's family has been involved with Hemophilia of Georgia since Dylan was eight months old. Read more.
New Location for 30th Annual Hit 'Em for Hemophilia Golf Tournament
The 30th annual Hit 'Em for Hemophilia Golf Tournament will be held Tuesday, October 30, 2012 at The Manor Golf and Country Club and The Echelon Course in Alpharetta Georgia. Corporate sponsorship levels and additional information will be available soon on www.hog.org/golf. Mark your calendar now and plan to register early because space will be limited.
HoG Volunteer and Donor Reception Scheduled for April 19th
Volunteers and donors who helped Hemophilia of Georgia last year will be honored at the Volunteer and Donor Appreciation Reception on Thursday, April 19, 2012 at Villa Christina. Invitations will be mailed to volunteers and donors in late March.

Trot to Clot Walk and Run to Benefit Camp Wannaklot
By Karen Daniel, Marketing and Communications Director
Hemophilia of Georgia's 3rd annual Trot to Clot Walk and Run will be Saturday, May 19th at Stone Mountain Park. This fun, family-centered event will raise money to fund Camp Wannaklot, the only camp in Georgia that gives kids and teens who have inherited bleeding disorders the chance to have fun, learn new skills, and be with other kids just like them. Most importantly, Camp Wannaklot campers learn how to manage their own treatment. Read more.
Investigators Publish Two Studies Using UDC Data
Submitted by the National Hemophilia Foundation
A pair of studies in the December 2011 edition of the American Journal of Preventive Medicine highlighted some notable findings from data collected by the Centers for Disease Control and Prevention (CDC). In the first study, "Insurance, Home Therapy, and Prophylaxis in U.S. Youth with Severe Hemophilia," the authors reviewed data from the CDC's Universal Data Collection (UDC) project, a voluntary surveillance system that relies on patient enrollment. The lead author of the study was Judith R. Baker, MHSA Department of Pediatric Hematology/Oncology, University of California Los Angeles. Read more.
Follow HoG on Twitter!
Hemophilia of Georgia is now on Twitter. Follow us for the latest news and information. www.twitter.com/hemophiliaofga
Client Dinner Photos
View photos from recent Hemophilia of Georgia client dinners.
Clinic Schedules
View the clinic schedules for the Georgia Hemophilia Treatment Centers.
Read HoG's Blog
Have you read HoG's Blog yet?
Find us on Facebook
________________________________________
Hemophilia of Georgia is not engaged in the practice of medicine and does not endorse or support any particular factor concentrate or treatment protocol. HoG recommends that you consult with your physician prior to starting any course of therapy. Occasionally HoG disseminates information on new treatments or therapies. HoG shares this for informational purposes only and makes no claim as to its accuracy or effectiveness.