Horizons in Hemophilia March 2013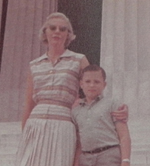 Anniversary Spotlight: an Interview with HoG Client Bob H.
By Cathy Hulbert, LCSW, HoG Social Worker
In celebration of Hemophilia of Georgia's 40th anniversary, we asked Bob H. of Rome to share some insights about how hemophilia care has evolved in his lifetime. Bob, a retired middle school teacher, has seen tremendous change. His parents, William and Frances, were among the founders of Hemophilia of Georgia after his father served on the national board for years. Read more.
World Hemophilia Day – Wednesday, April 17th
By Trish Dominic, CEO
The World Federation of Hemophilia is celebrating its 50th Anniversary this year, thus World Hemophilia Day becomes even more special. The theme this year is 50 Years of Advancing Treatment for All. The World Federation has asked you to join them on their Facebook page, www.facebook.com/wfhemophilia, with an anniversary wish or a message about your hopes for the future for people with bleeding disorders. Read more.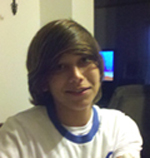 The Mighty Sticker Club Proudly Welcomes a New Member!
By Mary Ann Tyler RN, Outreach Nurse
Eliseo C. is the newest member to join The Mighty Sticker Club. To become a member, he mastered the steps for self infusion including mixing factor, selecting a vein, sticking himself, giving his own factor, and completing a treatment calendar. What an accomplishment! Read more.
A Rainy but Successful Hemophilia Day at the Capitol
By Michelle Putnam, MPH, Associate Director of Research and Advocacy
The rain didn't stop brothers Jason and Justin C. who wanted to share their stories with legislators. The Hemophilia of Georgia group gathered at Central Presbyterian Church for breakfast and a brief training session before walking across the street to the Capitol Building. This year, our main focus was on the money in the state budget allocated for medication for people who have hemophilia and don't have health insurance. Specifically, our goal was to get the Senate to restore all of the funding for HoG's Bleeding Disorder Assistance Program. Read more.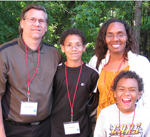 From the HoG Blog: Our Story
In this blog post, Sherri talks about how von Willebrand Disease affects her family. She also explains what Camp Wannaklot means to her son and why she's helping organize the first-ever Trot to Clot Walk and Run in Augusta to raise money for Camp Wannaklot. Read more.
It's Time to Apply for Scholarships!
By Karen Daniel, Marketing and Communications Director
The application deadline for HoG's John Youtsey Memorial Scholarship is May 1, 2013. This program helps Georgia students who are affected by bleeding disorders. Students who receive the John Youtsey Memorial Scholarship can use the funds for college, vocational, or technical school. Scholarships are granted based on scholastic achievement, financial need, and personal goals. Read more.
Advancing Care Through Technology
Submitted by the American Thrombosis and Hemostasis Network (ATHN)
Looking for an easy, pain-free way to support research? Opting in to the ATHNdataset may be one answer. The American Thrombosis and Hemostasis Network (ATHN) is a non-profit organization committed to advancing and improving care for individuals affected by bleeding and clotting disorders. ATHN has partnered with over 130 HTCs to establish a safe, secure national database—and to create a dataset, the ATHNdataset, to support outcomes analysis, research, public health reporting and advocacy. Read more.
International Study Finds Similar Inhibitor Risk for FVIII Products
Submitted by the National Hemophilia Foundation
Results of a recent international study published in The New England Journal of Medicine (NEJM) suggest that plasma-derived factor VIII (pdFVIII) products and recombinant factor VIII (rFVIII) products used to treat hemophilia A are associated with similar rates of inhibitor development. Overall, inhibitor antibodies to infused factor occur in approximately 25%-30% of children with severe hemophilia A. Read more.