Trot to Clot Walk and Run 2013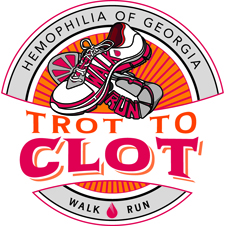 Thank you to our 2013 Trot to Clot participants, volunteers and sponsors who made the events successful.
Thanks to the corporate sponsors of the Trot to Clot Walk and Run at Stone Mountain in April!

Thanks to our corporate sponsors of the Trot to Clot Walk and Run in Augusta in May!


Thanks to our corporate sponsors of the Trot to Clot Walk and Run in Columbus in September!

The Trot to Clot Walk and Run is a fun, family-centered event that raises money to fund Camp Wannaklot, the only camp in Georgia that provides children who have hemophilia or other inherited bleeding disorders the opportunity to enjoy a traditional camp experience.
During this fun-filled week, campers make new friends, learn about their bleeding disorders, and share new experiences. In the Camp Wannaklot Video campers explain what makes Camp Wannaklot so great.
Run or Walk
There are many ways you can participate. The Trot to Clot Run is a 5K run. Trot to Clot Walk participants set their own pace and walk as much or as little as they feel comfortable. The $25/person advance registration fee includes a Trot to Clot t-shirt. There's also a free Tot Trot for kids 2 and under.
You can create your own team, join an existing team, or register as an individual walker or runner. Prizes will be awarded to the top two individual fundraisers and to the 1st place male and female runners. New this year: prizes will be awarded for the team with the most creative team t-shirt.
Become a Corporate Sponsor
Companies of all sizes are invited to become corporate sponsors. Please contact Lorraine Scollan for details.
Make a Donation
You can help ensure that Hemophilia of Georgia's Camp Wannaklot can continue to give children with hemophilia and other inherited bleeding disorders a special and safe place to spend part of their summer and have fun. If you were unable to participate during the walk or run, you can still help by making a donation to support Camp Wannaklot and Hemophilia of Georgia.
Find Out More
For more information about Hemophilia of Georgia's Trot to Clot fundraisers, please contact Lorraine Scollan, Development Coordinator, at 770 518-8272 or ljscollan@hog.org.