Horizons in Hemophilia May 2011

Pro Football Player Josh Gordy Raises Funds for Hemophilia of Georgia
Josh Gordy, cornerback for the Super Bowl Champion Green Bay Packers, has teamed up with Hemophilia of Georgia to raise money for programs and services for people in Georgia who have hemophilia, von Willebrand Disease, or other inherited bleeding disorders. Everyone in the bleeding disorder community in Georgia is encouraged to attend the Trot to Clot Walk/Run at Stone Mountain Park on May 21 to meet Josh and to help raise money for programs and services. Read more.
Hemophilia of Georgia Announces Preventive Dental Care Program
HoG's new Preventive Dental Care Program provides two free dental cleanings per year to qualified clients. Read more.
"Bad Blood" Documentary to be Shown on Georgia Public Television June 2
Bad Blood: A Cautionary Tale, the documentary that traces how factor concentrate became contaminated with HIV in the late 70s and early 80s, will be shown on Georgia Public Television Thursday evening, June 2. This film, by two-time Emmy Award winning documentary producer Marilyn Ness, tells the story from the perspective of six families affected by the tragedy and the doctors, nurses, and scientists who cared for them. Read more.
New Storage Guidelines for Kogenate FS
Bayer has announced a change to the storage and handling of Kogenate FS. It can now be stored at temperatures up to 77 degrees Fahrenheit for up to 12 months. Read more.
Kyle B. Awarded Kids Miracle Design Scholarship
Paying for college is costly, but for one young man with hemophilia, the economic burden has been reduced. Kyle received a scholarship from the Kids Miracle Design Fund through Children's Hospital at Memorial Health University Medical Center in Savannah. Read more.
Online Ordering from the HoG and Beacon Pharmacies
Hundreds of HoG and Beacon pharmacy clients have signed up for online pharmacy ordering. It's easy and available to everyone who orders from HoG or Beacon. You'll always know that your order has been received by the pharmacy. Once you've selected the medications and supplies you need and verified your shipping address, you will see the Online Pharmacy Checkout: Review page. Read more.
HoG Thanks Focus Group Participants
Over the last few weeks, several HoG clients and parents of clients participated in focus groups held around the state. We really appreciate their time. Read more.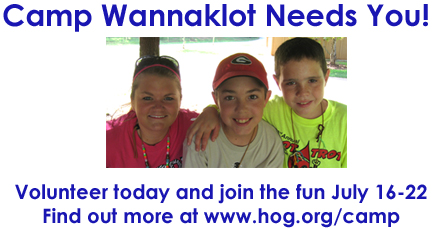 Spring Fundraising Campaigns: Camp and Scholarships
It's that time of year for two very important fundraising initiatives at Hemophilia of Georgia. We need your support for the scholarship and camp fundraising campaigns. Each year, the John Youtsey Memorial Scholarship is awarded to Georgia residents affected by hemophilia or other bleeding disorders and to students who have lost a parent to complications from a bleeding disorder. Camp Wannaklot will celebrate its 18th season this summer as more than 150 campers attend camp from July 17-22, 2011. Read more.
Michigan Researchers Develop Disease-Specific Stem Cell Lines
Researchers from the University of Michigan (U-M) in Ann Arbor have developed the state's first embryonic stem cell lines that carry genes linked to specific inherited diseases, including hemophilia. On April 4, U-M announced the creation of two stem cell lines: one carries the gene for hemophilia B (factor IX deficiency). Read more.
Clinic Schedules
View the clinic schedules for the Georgia Hemophilia Treatment Centers.

________________________________________
Hemophilia of Georgia is not engaged in the practice of medicine and does not endorse or support any particular factor concentrate or treatment protocol. HoG recommends that you consult with your physician prior to starting any course of therapy. Occasionally HoG disseminates information on new treatments or therapies. HoG shares this for informational purposes only and makes no claim as to its accuracy or effectiveness.