Dying with Dignity: Not the Easiest Dinner Conversation (But It Is Getting Easier)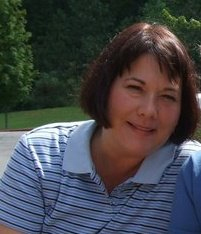 By Cathy Hulbert, LCSW, HoG Social Worker
I have learned that it takes practice to talk about dying with dignity, particularly when you have five minutes during one of Hemophilia of Georgia's statewide family dinners. I mean, seriously. I'm supposed to talk about death and dying issues right after our clients and their families have enjoyed a nice buffet? For a fleeting moment that is what went through my mind when it was decided that family dinners are as a good a time as any to talk "advanced directives." These directives tell your family and doctors how you want to be treated when you can't speak for yourself.
Because this subject is all about putting more power back into the hands of clients, I forged ahead and got over my awkwardness. I'm glad that I did. After all, I felt tremendous relief when I finished my own directives years ago. Still, it is never easy to talk about death, particularly to a crowd mixed with young adults and families with children. But during a recent HoG dinner in northwest Georgia I knew that I had done something right when all of the Five Wishes® forms on the table were taken by the end of the dinner.
One father in his mid-thirties joked with me as he picked up a form. "I don't want my wife playing Justin Bieber songs to me when I'm in a coma and can't defend myself!" It was funny but true. It is important to make these things clear if you want your last days to be as peaceful and respectful as possible. The term "advanced directives" sounds dry but it is a document that is meant to give you as much control as possible by helping you plan important things in advance. Among other things the directives tell your doctors and loved ones what you want done for you medically – and what you do not want done – at the end of your life. It also spells out what types of music, light massage, readings, aroma therapy and other comforting interventions might bring you more peace during your last days.
Unfortunately, young adults can find themselves in this situation, too. Hospital staff and those doing out-patient surgeries are required to ask anyone age 18 or older if they have completed advanced directives.
Recently I sat with a mother and her 18-year-old son as they expressed their anxiety and shock about this question being raised prior to a routine surgery for the teen. It is a question that is meant to convey respect to the young person by treating him as an adult who has a right to make his own decisions. But the topic can create fear if family members have never discussed it and if they interpret it as a prediction about how the procedure will go.
That is another reason why I decided to write this blog. Whether you are 18 or 98, the best time to fill out advanced directives forms is when you are calm, in comfortable surroundings and have time to consider your options. The user friendly Five Wishes® form is now available online at www.fivewishes.org. The online forms can be e-mailed to doctors. Its primary author, a lawyer named Jim Towey, worked closely with Mother Teresa of Calcutta for 12 years and was influenced by her emphasis on death with dignity. For a legal document, Five Wishes® is unusually easy to understand. HoG nurses and social workers can help clients get free copies of Five Wishes® forms.
You can search online to find other advanced directives if you would like. But I like this particular form, which is $5 per person or less for big orders, because it is so easy to read and includes a wallet card that directs medical staff to the person you have designated as your healthcare agent. Once it is signed and witnessed according to instructions, it is legally binding in Georgia and most other states. However, it never hurts to hire a lawyer specializing in these issues to discuss topics related to your care. The laws about nursing home funding and financial assets are extremely complex. An experienced lawyer can help you navigate them.
So what are the five wishes covered by this form?
Wish One: The person I want to make care decisions for me when I can't.
Wish Two: The kind of medical treatment that I want or don't want.
Wish Three: How comfortable I want to be.
Wish Four: How I want people to treat me.
Wish Five: What I want loved ones to know.
Five Wishes® is a trademark of Aging with Dignity. All rights reserved. © 2007 Aging with Dignity. PO Box 1661, Tallahassee, Florida 32302-1661