Social Work Month Spotlight: Jazzmine Brown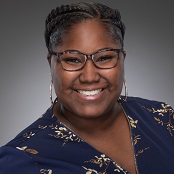 We are proud to highlight our social workers throughout Social Work Month. Jazzmine Brown started with us in December 2019, and just as she did when she changed majors, we hope she never looks back.
Q: How did you get into social work?
A: I found social work by chance in college. I wasn't sure what I wanted to major in and was at a point where a decision needed to be made. I wanted something I could be passionate about and my college advisor felt that I would be good in a helping profession. He suggested I take a few social work electives and maybe an intro to social work class to see if I liked it. After just a week in these classes I knew this was the profession for me. I immediately changed my major and never looked back!
Q: How long have you beend doing social work?
A: I have been doing social work officially since 2016, after graduating from Georgia State University with my Bachelor's in Social Work.
Q: What do you enjoy most or what are you most proud of in your role at HoG?
A: What I enjoy most about this role is being able to meet clients where they are at. The role of social worker at HoG is very unique in comparison to other non-profits and agencies and I'm very proud of the resources and services we can offer our clients.
Q: What do you think is the most important contribution of social workers?
A: I believe the most important contribution we make to the inherited bleeding disorder community as social workers is very similar to the contributions we make as a whole. To me, that is our desire to change the world. This is not to say a global impact is the on-going expectation, but I believe our ability and value in making small changes and removing barriers in the lives of our clients changes their world for the better and significantly sets us apart from all other professions.
"How wonderful it is that nobody need wait a single moment before starting to improve the world."
– Anne Frank