Horizons in Hemophilia February 2013
Holiday Hours — Presidents' Day
The HoG office and pharmacies will be closed on Monday, February 18, 2013 in honor of Presidents' Day. Order early so you have enough factor on hand for the holiday weekend.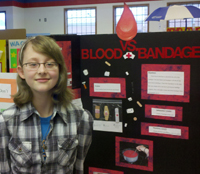 8th Grader's Blood vs. Bandage Project Wins School and County Science Fairs
By Christina B. (Gillian's mom)
8th grade student Gillian combined her love of science with her von Willebrand Disease to come up with an interesting and exciting REACH Science Fair Project. She tested three different types of bandages to see which one absorbed the most blood. While most people don't have a preference, those in the bleeding disorder community could use Gillian's research to their own benefit. Read more.
Hemophilia of Georgia at 40: Program Staff Spotlight
By Karen Daniel, Marketing and Communications Director
Two Hemophilia of Georgia staff members have provided dedicated service to the bleeding disorder community for many years. Jeff Cornett joined the HoG staff in 1990 as Training and Research Coordinator. Rueleen Kapsch joined the HoG staff as Quality Assurance Nurse in 1997. Read more.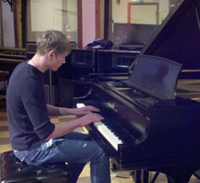 Hemophilia of Georgia's Teen Retreat in Nashville, Tennessee
By Kim Wilson, Camp and Activities Coordinator
A group of 52 HoG staff, volunteers, and teenagers arrived in Nashville, TN for a holiday weekend spent serving the local community, learning about the music scene in Nashville, and developing their anti-bullying skills. Upon arrival at the Deer Run Retreat Center, we settled in and completed a service project to benefit the camp. Read more.
Why Talking with Your Legislator is So Important
By Michelle Putnam, Associate Director of Research and Advocacy
On Monday, February 11, Hemophilia of Georgia clients and family members celebrated Hemophilia Day at the Capitol. They met face to face with their legislators and described what it means to have a bleeding disorder and how it impacts their lives. Their stories helped educate Senators and Representatives, many of whom do not know much about bleeding disorders. Although Hemophilia Day at the Capitol is a great way to sit down with your legislators, you can be in touch with them throughout the year. Read more.
Trot to Clot Walk and Run: Hemophilia of Georgia Needs your Support and your Creativity!
By Lorraine Scollan, Development Coordinator
Hemophilia of Georgia and the Trot to Clot Walk and Run need your support and your creativity! We will have three Trot to Clot Walk and Run events to raise money for Camp Wannaklot this year: in Stone Mountain, Augusta and Columbus. We hope you can support us by setting up a team of walkers or runners. If you cannot attend one of these fun events please think about making a donation to support Camp Wannaklot. Read more.
Volunteers Needed
Volunteers are needed at the HoG office on Wednesday, 2/20/13 from 9 a.m. to 2 p.m. We also need volunteers at the office during college spring break weeks in March. Please contact Vic at vamccarty@hog.org or 770 518-8272 if you can help. Thank you!
Check out The Hemophilia, von Willebrand Disease & Platelet Disorders Handbook. It's a free online resource for everyone affected by bleeding disorders.
View the clinic schedules for the Georgia Hemophilia Treatment Centers.
Have you read HoG's Blog yet?

Find us on Facebook and Twitter.
____________________________________
Hemophilia of Georgia is not engaged in the practice of medicine and does not endorse or support any particular factor concentrate or treatment protocol. HoG recommends that you consult with your physician prior to starting any course of therapy. Occasionally HoG disseminates information on new treatments or therapies. HoG shares this for informational purposes only and makes no claim as to its accuracy or effectiveness.