Horizons in Hemophilia, June 2015
Emergent BioSolutions Inc. has announced the FDA approval of IXINITY®, a recombinant factor IX product for adults and children at least 12 years of age with hemophilia B.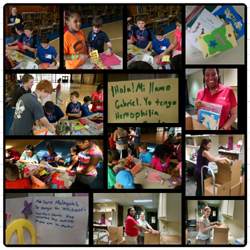 This past May 16th I celebrated my fourth anniversary at HoG. To be completely honest, I usually don't remember my anniversary date. But this year I did, because it coincided with my last training trip to Bolivia.
Spring is a lovely time to visit Washington, DC. The winter snow has melted and the cherry blossoms are in bloom, blanketing the city with a layer of pink. At least, this is what HoG staffers Michelle Putnam, Maria Manahan, and Michelle Fitzwater managed to glimpse from the plane as they flew into the city for the annual Hemophilia Alliance Hill Day.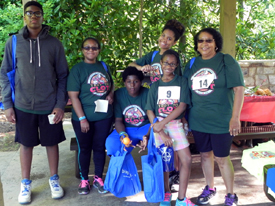 Another April of wild weather caused havoc for the start of the spring Trot to Clot events. Severe thunderstorms caused the unprecedented cancellation of an HoG fundraising event, a first in 40 years!
Martez G. Favis is a native of Albany, Georgia who works for the Dougherty County School System as an Instructional Specialist. He is currently studying for a Master of Education Degree in Curriculum and Instruction from Lesley University in Cambridge, Massachusetts.
I inducted Will C. into the Mighty Sticker Club on May 6. To become a member, he mastered the steps of self-infusion including mixing factor, selecting a vein, sticking himself, giving himself factor and completing a treatment calendar.
Volunteer as a camp counselor at Camp Wannaklot July 4th - July 10th. It's fun and rewarding! To learn more and to fill out an online volunteer application visit www.hog.org/camp.
View the clinic schedules for the Georgia Hemophilia Treatment Centers.
Have you read HoG's Blog?