Horizons in Hemophilia November 2012
This Season of Thanks and Giving
By Trish Dominic, CEO
As the last months of the year speed toward us, I think of the times we will gather with family and friends to share memories of the past and to be thankful we are together for another season of holidays. I often hear from all of you about how thankful you are for HoG. I believe it is mutual. We are also thankful for you. Throughout the year you provide our staff with opportunities to share in your triumphs – your child learns to infuse; your child goes to camp; your child leaves for college. Read more.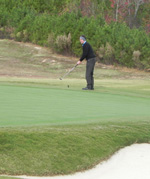 30th Annual Hit 'Em for Hemophilia Golf Tournament Raises $250,000 for Research
By Karen Daniel, Marketing and Communications Director
The 30th Annual Hit 'Em for Hemophilia Golf Tournament was held October 30, 2012 in Alpharetta. Hemophilia of Georgia is grateful to the over 230 golfers and corporate sponsors who helped raise almost $250,000. These funds will go towards research for a cure for hemophilia. Read more.
What the Election Means to the Bleeding Disorder Community
By Michelle Putnam, Associate Director of Research and Advocacy
The Affordable Care Act is here to stay. President Obama's re-election and the continuation of Democratic control in the Senate will ensure that the health law moves forward as planned. Buoyed by the election, the White House will waste no time in pushing out the remaining parts of the law, which include expanding coverage, offering tax credits to help pay for insurance premiums, and establishing health exchange marketplaces. Read more.
I Vote, I Value
By Jeff Cornett, RN MSN, Director of Training, Research, & Advocacy
Want to let your elected officials know the aspects of your community that are important to your quality of life? At the next Hemophilia of Georgia activity you attend, you'll have an opportunity to do so by completing an "I Vote, I Value" postcard. Read more.
Twinning: HoG Working to Close the Gap and Improve Hemophilia Care in Bolivia
By Deniece Chevannes, Health Educator
This past month representatives from HoG traveled to South America to meet with and provide training to the members of the Fundación Nacional de Hemophilia Bolivia (FUNAHEB). FUNAHEB is the nonprofit organization in Bolivia that we are working with in our twinning project through the World Federation of Hemophilia (WFH). Read more.
Introducing the Hemophilia Advisory Board
By Michelle Putnam, Associate Director of Research and Advocacy
In September 2012, a group made up of hemophilia specialists, nurses, physicians, and patients sat down with the Commissioner of Public Health and the Commissioner of Community Health to discuss one very specific goal: to ensure that people with hemophilia and other inherited bleeding disorders have access to quality and affordable care. This formal discussion was the first meeting of the Georgia Hemophilia Advisory Board which was created by law in 2011. Read more.
Hemophilia of Georgia Holiday Hours
By Karen Daniel, Marketing and Communications Director
Happy Thanksgiving from Hemophilia of Georgia! Please order your factor early to be sure you have enough for the long holiday weekend. Read more.

Family Camp Photos
By Kim Wilson, Camp and Activities Coordinator
Check out the photos from the fall Family Camp weekend. We had an incredible weekend filled with fun, laughter, learning, and time to play with our extended HoG family. View photos.
Organ Transplants Increasing in HIV Patients
Submitted by the National Hemophilia Foundation
An October Wall Street Journal (WSJ) article highlights a new trend--an increase in the number of organ transplants in HIV-positive patients. Historically, centers have been reluctant to conduct vital organ transplants in these patients for a number of reasons. There have been concerns that recipients would not live long, that HIV-associated diseases would damage the transplanted organ and that anti-rejection drugs might degrade organ functions. However, highly effective anti-retroviral therapies (ART), available since the mid-1990s, have enhanced overall health and life expectancy (32.1 years after diagnosis) for HIV patients to such a degree that organ transplantation is now becoming a viable clinical option. Read more.
Check out The Hemophilia, von Willebrand Disease & Platelet Disorders Handbook. It's a free online resource for everyone affected by bleeding disorders.
View the clinic schedules for the Georgia Hemophilia Treatment Centers.
Have you read HoG's Blog yet?
Find us on Facebook and Twitter.
____________________________________
Hemophilia of Georgia is not engaged in the practice of medicine and does not endorse or support any particular factor concentrate or treatment protocol. HoG recommends that you consult with your physician prior to starting any course of therapy. Occasionally HoG disseminates information on new treatments or therapies. HoG shares this for informational purposes only and makes no claim as to its accuracy or effectiveness.