Southeast Region Bleeding Disorders Program
The Southeast Region Hemophilia Network (SRHN) is a network of twenty-six federally supported Hemophilia Treatment Centers (HTCs) that provide access to expert lifespan comprehensive diagnostic, treatment, prevention, research, and cost-effective pharmacy services for individuals and families affected by bleeding and clotting disorders in Alabama, Florida, Georgia, Kentucky, Mississippi, North Carolina, South Carolina, and Tennessee.
The SRHN receives federal funding from the Maternal and Child Health Bureau and the Centers for Disease Control and Prevention to provide comprehensive care and prevention services to persons with bleeding disorders.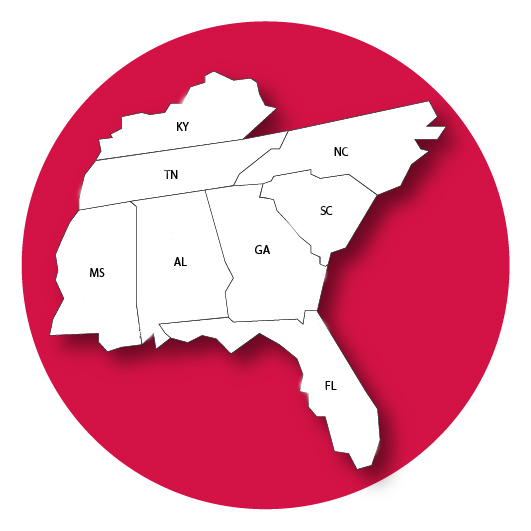 Hemophilia Treatment Centers (HTCs) are specialty prevention, diagnostic and treatment programs. The HTC's goal is to provide family-centered education, state-of-the-art treatment, research, and support services for individuals and families living with bleeding disorders. A multi-disciplinary team of professionals delivers these services. The core team includes an adult or pediatric hematologist, a nurse coordinator, a social worker, and a physical therapist. HTC services include medical and psychosocial assessment and monitoring, home therapy teaching and monitoring, orthopedic evaluation, infectious disease management, physical therapy, dental services, genetic counseling, rehabilitation, and support services. The HTC team works closely with local healthcare providers to meet the specific needs of persons with bleeding disorders, as well as to enhance the overall quality of the person's life by assisting with the prevention and management of complications associated with bleeding disorders.
If you or someone you know would like to receive more information and/or services related to bleeding disorder care, please contact one of the Southeast Region Hemophilia Network Treatment Centers.
The chapters of the National Bleeding Disorders Foundation located within the Southeast Region include: