A Season of Giving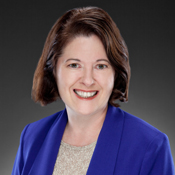 By Maria Manahan, CEO
This Thanksgiving season I'm afforded the opportunity to pause and reflect, with gratitude, on all that we've accomplished together and all the possibilities that lie ahead.
I'm thankful for the legacy and framework that Trish Dominic created and the opportunity to lead HoG towards innovation and future growth. I'm grateful for HoG's team of donors, volunteers and staff who are dedicated and passionate about our mission to ensure that people affected by bleeding disorders live as normally and productively as possible.
This Thanksgiving season, I hope you share in my gratitude for those working towards our mission and the promising research that lies ahead. To our donors and supporters helping us continue HoG's funding of research for a cure, I am grateful for your commitment.
As I look to the future, I hope you continue to help us invest in further research. Exciting hemophilia gene therapy trials are happening now. Your gift this holiday season will ensure research continues.
It's my pleasure and honor to lead this organization, and I am thankful for your support of the bleeding disorders community and Hemophilia of Georgia this year. Here at HoG, you are the key to our success. I'm wishing you and your loved ones, near and far, a very Happy Thanksgiving.