Hemophilia is Like Living in a Small Town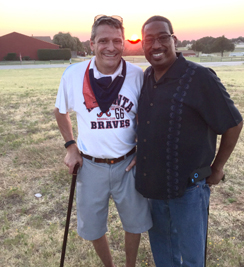 By Chip H.
Every year the National Hemophilia Foundation (NHF) hosts an Annual Meeting at which time our diverse and dynamic bleeding disorders community gathers together to share information, experiences, ideas and fellowship. For this year's event we met August 13-15 just north of Dallas, Texas at the Gaylord Grapevine hotel. The theme was "Boots on the Ground." In this photo I am in my Atlanta Braves shirt standing with NHF President Val Bias.
I've attended a number of NHF conferences over the years and always find myself drawn to the meeting for the same primary reasons. I attend National to "keep an ear to the ground" and learn about new treatments and the latest breakthrough research concerning bleeding disorders. I attend to see our community collectively define what's important to us and to marvel at what we accomplish when we focus and work together. I attend to catch up and laugh with old friends and, at the same time, forge new relationships and learn from families in our community. And I also attend to take pride in the many ways in which people from my home state and the professionals at HoG and Georgia's Hemophilia Treatment Centers make a positive difference in the bleeding disorders community.
There's something for everyone on the schedule and these educational sessions are tailored specifically for the many individuals that make up our community. There are sessions for women, Latinos, siblings unaffected by a bleeding disorder, social workers, doctors, nurses, chapter staff, industry partners, old guys with hemophilia, young guys with hemophilia, etc.
If the educational sessions nurture the mind, it's the opportunities to socialize within the community that truly feed the soul. I've always felt a certain kinship with those dealing with a bleeding disorder. To me, y'all are family - a tightknit, diverse group of folks dealing with similar challenges. I'm fond of saying that hemophilia is like living in a small town, it's just that we're spread out all over the country and the world. That makes NHF's National Meeting something of a family reunion.
This yearly meeting is my annual opportunity to catch up and hang out. Fortunately, there were many opportunities in Dallas to do just that. Bleeding disorders are very relationship-based. The chance to share experiences, both good and bad, with people who share the same challenges as me means everything. These opportunities to both speak and listen, to share and learn, and to equally laugh and grimace are very important to me. It's a powerful experience and a great reminder that, even though our bleeding disorders are rare, we are certainly not alone!
Next year, in 2016, the US plans to host more people than ever with bleeding disorders. Orlando, Florida will accommodate NHF's Annual Meeting from July 21-23, followed by the World Federation of Hemophilia's World Congress from July 24-28. Chances are that we will witness more people with a bleeding disorder gathered in one place at one time than ever before. Individuals from every part of the globe will share their stories, their successes and their challenges. They will all help bring about positive changes that make a difference in all our lives. It's going to be a powerful experience that I'm certain will yield great results for the bleeding disorders community. I know I'll be making the trip and I hope to see lots of folks I know from Georgia in attendance. I also hope to meet lots of new friends. If you've never attended an NHF Annual Meeting, next year's promises to be quite a memorable event! Contact HoG or check the NHF website next year for registration information. Scholarships that cover your room, most meals and travel expenses are available for first-time attendees. I hope to see you in Orlando!