Horizons in Hemophilia August, 2010

August, 2010
School In-Service Presentations
HoG offers school in-services because it is important that teachers and school officials feel comfortable knowing what to do for a bleeding problem, instead of calling 911 for a minor problem or, at the other extreme, failing to let parents know about important concerns about their child's health. Read more.

Donors Help Kids Get in the Game at Camp Wannaklot
Thanks to generous donors who contributed nearly $35,000, more than 150 kids and teens had a great time at Camp Wannaklot this year. The theme of Camp Wannaklot 2010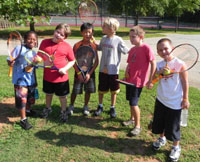 was "Get In the Game" and many of the activities were based on popular games. Read more.
Camp Photos
View a selection of photos from camp. Everyone had a great time getting in the game!
Got Game? HoG Youth Leaders Do
The Hemophilia of Georgia youth leadership group known as the Generation of Heroes put the full court press on hot topics facing our nation. Over the summer a handful of our young people put together a game plan to help other young adults understand the Affordable Care Act. Read more.
Hemophilia of Georgia Funds New Researcher
Hemophilia of Georgia has awarded a Clinical Scientist Development Grant to Dr. Jordan Shavit, Assistant Professor of Pediatrics and Communicable Diseases at the University of Michigan (Ann Arbor).
Dr. Shavit is studying novel methods for the identification of genetic and chemical modifiers of hemophilia. Read more.
Addressing the Underserved Populations In Our Global Family
The sessions of the XXIX International Congress of the World Federation of Hemophilia (WFH) opened with the WFH president's plenary, focusing on our global family. In particular, Mark Skinner, WFH president, addressed the needs of the underserved populations in the global bleeding disorders community. Read more.
Hit 'Em for Hemophilia Golf Tournament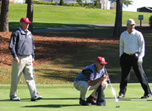 On November 1, 2010, Hemophilia of Georgia will host the 28th annual Hit 'Em for Hemophilia Golf Tournament on all three courses at the beautiful Château Élan Winery & Resort in Braselton, Georgia. About 250 golfers are expected to participate in the tournament which raises money for research for a cure for bleeding disorders. Read more.
Mayo Clinic Examines Circumcision-Induced Bleeding
In March, researchers at the Mayo Clinic (MC) in Rochester, MN, published a retrospective study of circumcision in patients with bleeding disorders. The purpose of the study was to examine the outcomes of circumcisions performed on patients who were evaluated at MC to determine the extent of related complications and develop guidelines for clinical management. Read more.
Swedish Study Assesses Osteoporosis Prevention in People with Severe Hemophilia
In May researchers in Sweden published the results of a study analyzing whether physical activity, accompanied by a long-term prophylactic (preventive) treatment regimen, is a significant determining factor in the prevention of osteoporosis in patients with severe hemophilia. Read more.
Clinic Schedules
View the clinic schedules for the Georgia Hemophilia Treatment Centers.

---
Hemophilia of Georgia is not engaged in the practice of medicine and does not endorse or support any particular factor concentrate or treatment protocol. HoG recommends that you consult with your physician prior to starting any course of therapy. Occasionally HoG disseminates information on new treatments or therapies. HoG shares this for informational purposes only and makes no claim as to its accuracy or effectiveness.