Medicare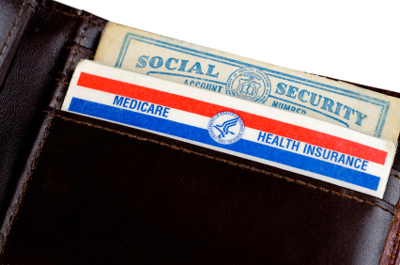 Medicare is a federal health insurance program that serves people 65 and older and younger disabled people. The Original Medicare Plan has three parts. The first, Part A, covers most of the cost of hospital care. Most people do not have to pay any premium for Part A. Part B pays for part of the doctors' fees and other medical costs and does have a monthly premium. Part D pays for prescription drugs, and may or may not have a monthly premium, depending on the plan you choose.
The Original Medicare Plan (Parts A, B, and D) does not cover 100% of a person's health care costs. Some medical charges are not covered at all. These include routine physicals, vision, and most dental care. Some people buy a supplemental insurance, called a Medigap policy, to cover the bills not paid by Medicare. These Medigap plans do not cover prescription drugs.
Some people opt to get their Medicare benefits through private insurers, and get both Parts A and B through a Medicare Advantage plan. These plans vary depending on where you live. Medicare will pay a fixed amount towards the premium, and you are responsible for paying the additional premium. These plans generally have a network of included providers. Some Medicare Advantage Plans do include prescription drugs. These are called Medicare Advantage Prescription Drug plans.
When choosing a plan, it is important to see how they differ on cost, choice of doctors and hospitals, and benefits. Your HTC social worker can help you find out about the plans available in your area and which will provide the most benefit for you.
Anyone age 65 or older who receives Social Security may apply for Medicare. People under 65 are eligible to apply if they have received Social Security Disability Income for 24 months.
If you receive Medicare and have little income or financial resources, you may qualify for help with out-of-pocket medical costs through several different programs. Each program has a monthly income limit, and you can find out which you qualify for by contacting your state's Medicaid office.
For more information or to apply for Medicare, contact the local office of the Social Security Administration. Medicare information is also available at http://www.medicare.gov/. Your HTC social worker can help with the application.