Horizons in Hemophilia, April 2013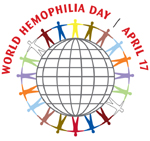 HoG helps to Close the Gap for the World Federation of Hemophilia
By Trish Dominic, CEO
The theme of World Hemophilia Day, on April 17, 2013, is Close the Gap. Over 75% of the world population affected by bleeding disorders has no access to care and treatment. The World Federation of Hemophilia (WFH) strives to make care and treatment more accessible to people around the world. In celebration of World Hemophilia Day, we thought we would share with you what HoG has done over the past years to help people around the world access treatment. Read more.
Hemophilia of Georgia Celebrates 40th Anniversary


By Karen Daniel, Marketing and Communications Director
On Saturday March 23, several hundred people gathered at the Georgia Aquarium to celebrate Hemophilia of Georgia's 40th anniversary. Before touring the aquarium exhibits, the client families, volunteers, and donors enjoyed a very nice luncheon and a short awards program. HoG's CEO Trish Dominic shared highlights from HoG's history and described the outstanding contributions of Dr. Sidney Stein from Emory University. Read more and view photos.
NovoSeven RT Announces Launch of New MixPro
By Leigh Carpenter, RPh, Director of Pharmacy
Novo Nordisk is introducing a new design for reconstituting NovoSeven RT. The new "MixPro" kits contain the recombinant factor VIIa in a vial which can now be mixed with a pre-filled syringe of sterile diluent that is also included in the box. Each kit contains a vial of NovoSeven RT powder, a vial adapter, a pre-filled syringe with diluent and a plunger rod. Read more.
Spring Family Camp


By Kim Wilson, Camp and Activities Coordinator
March 15-17 was a perfect weekend to enjoy time as a family at Camp Twin Lakes. There were educational sessions about preventing bullying, and fun ways to increase physical activity as a family. Check out the photos to see the fun that was had by all! Read more and view photos.
Welcome to Washington, DC!
By Michelle Putnam, MPH, Associate Director of Research and Advocacy
This past March, most people in Washington, DC were focused on one word: sequestration. Legislators had a deadline looming and their days were spent talking budget cuts, national debt, and deficits. But, nine volunteers from the Georgia bleeding disorder community and three HoG staff members helped change the conversation by participating in the National Hemophilia Foundation's Washington Days. Read more and view photos.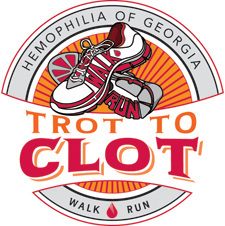 In Their Own Words: Why These Families Support the Trot to Clot Walk and Run
By Karen Daniel, Marketing and Communications Director
Several families were asked why they are involved with the Trot to Clot Walk and Run, which raises money for Hemophilia of Georgia's Camp Wannaklot. Celebrating its 20th year this summer, Camp Wannaklot is the only camp in Georgia that gives kids and teens who have inherited bleeding disorders the chance to have fun, learn new skills, and be with other kids just like them. Most importantly, Camp Wannaklot campers learn how to manage their own treatment. Read more.
Dear HoG: Replacing Lost MedicAlert® Jewelry
Dear HoG: I am a little confused about whether Hemophilia of Georgia can help with more than one MedicAlert® bracelet. My daughter lost hers. HoG bought the first one for us about two years ago. Will you pay for a replacement? --The mom of an active girl.
Dear Mom: Thanks for asking about this. MedicAlert® jewelry is so important, as you know, and can save lives! Read more.
Hemophilia Treatment Center Staffers Meet to Discuss Latest in Care
By Karen Daniel, Marketing and Communications Director
Representatives from the Hemophilia Treatment Centers (HTCs) in Georgia met with Hemophilia of Georgia staff for the annual State Comprehensive Care Meeting March 7-8, 2013 at Stone Mountain. More than 50 physicians, nurses, social workers, and other HTC staff from Atlanta, Augusta, and Savannah attended the two-day meeting. Read more.
Check out The Hemophilia, von Willebrand Disease & Platelet Disorders Handbook. It's a free online resource for everyone affected by bleeding disorders.
View the clinic schedules for the Georgia Hemophilia Treatment Centers.
Have you read HoG's Blog yet?

Find us on Facebook and Twitter.
____________________________________
Hemophilia of Georgia is not engaged in the practice of medicine and does not endorse or support any particular factor concentrate or treatment protocol. HoG recommends that you consult with your physician prior to starting any course of therapy. Occasionally HoG disseminates information on new treatments or therapies. HoG shares this for informational purposes only and makes no claim as to its accuracy or effectiveness.