Horizons In Hemophilia December 2009


December 2009
Our Year End Story
By Trish Dominic, CEO
Despite the economy and the nation's financial crisis, HoG continues to provide programs and services throughout Georgia.
I am pleased to share with you HoG's continued success for 2008/2009. Through the dedication and commitment of HoG's Board, staff and volunteers, the agency continued to serve more people with bleeding disorders while maintaining its programs and services. While we have faced many challenges with state funding, legislation and national health issues, we remain dedicated to our mission and vision and committed to the people in Georgia we serve. Read More
New Treatments Coming for Hepatitis C
By Jeff Cornett RN MSN, Director of Training, Research and Advocacy
Research findings presented at meetings of the National Hemophilia Foundation and the American Association for the Study of Liver Disease are good news for people with bleeding disorders and hepatitis C. That is because the research focuses on the success of new drugs, protease inhibitors against the hepatitis C virus (HCV), in overcoming infection with the subtype 1 form of HCV. People with bleeding disorders and hepatitis are most likely to have subtype 1. Read More
Austin Shaw Recognized as a Youth Community Champion by the Sprint Foundation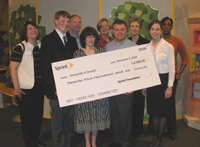 By Karen Daniel, Marketing & Communications Coordinator
Roswell High School sophomore Austin Shaw was recognized as a Youth Community Champion by the Sprint Foundation at an awards ceremony on Monday, November 2, 2009. The Sprint Foundation awarded a $2500 grant to the non-profit organization of his choice, Hemophilia of Georgia. Read More
Research Update: Investigators Look at Confusing Case of VWD Misdiagnosis
Researchers from the Medical College of Wisconsin recently looked at a puzzling case of laboratory testing for von Willebrand disease (VWD). The lead investigator of the study was Veronica Flood, MD, pediatric oncologist and assistant professor, Division of Hematology/Oncology, Department of Pediatrics, Medical College of Wisconsin, Milwaukee. Read More
Backus HTC Celebrates 5 Years of Comprehensive Care
By Mary Lou Cygan MSN, RN, CPNP
Certified Pediatric Nurse Practitioner, Pediatric Hematology/Oncology Clinic, Backus Children's Hospital
On November 10, 2009 we celebrated five years of comprehensive care for individuals with bleeding disorders in Savannah. It was November 1, 2004 when we received a letter from Hemophilia of Georgia announcing our first grant to support comprehensive care in Savannah at Backus Children's Hospital. Read More
Donating to HoG Brings People Together
By Vic McCarty, Director of Development
Hemophilia of Georgia would like to express our sincere appreciation to our donor friends and those individuals who have made contributions to the organization during this year. Hemophilia of Georgia hosted 26 different events for clients and their family members last year. Read More
A New Mighty Sticker Club Member
By Mary Ann Tyler, Outreach Nurse
In November Dylan was inducted into the Mighty Sticker club as he successfully and correctly demonstrated that he can now mix and infuse factor on his own! Dylan has come a long way since his first attempt at age 7 to learn the self-infusion process. Read More
The First Ever Yoga Retreat for Women with Bleeding Disorders
By Cathy Hulbert, Social Worker
Women with bleeding disorders helped break new ground this fall when Hemophilia of Georgia staff teamed with two exceptional yoga teachers to create a client workshop like no other. It was called the "Restorative Yoga Weekend" and judging from the glowing faces and positive feedback, it was a huge success. Read More
HoG Included in United Healthcare's In-Network Specialty Pharmacy Network
We are pleased to announce that United HealthCare, a leading national health insurance company, recently recognized the value offered by Hemophilia Treatment Centers by including HTC pharmacies in their specialty pharmacy network. Read More
Hemophilia of Georgia raises $250,000 from the Hit 'Em for Hemophilia Golf Tournament
Even the pouring rain couldn't soak the excitement and participation at the 27th annual Hit 'Em for Hemophilia golf tournament on October 27 at Château Élan Winery & Resort in Braselton, Georgia. Read More
Client Dinner Photos
View photos from recent HoG client dinners.
Clinic Schedules
View the clinic schedules for the Georgia Hemophilia Treatment Centers.
Physician-to-Physician Hotline
Provide the Physician-to-Physician Hotline telephone number to doctors who have questions about treating people who have bleeding disorders.
---
Hemophilia of Georgia is not engaged in the practice of medicine and does not endorse or support any particular factor concentrate or treatment protocol. HoG recommends that you consult with your physician prior to starting any course of therapy. Occasionally HoG disseminates information on new treatments or therapies. HoG shares this for informational purposes only and makes no claim as to its accuracy or effectiveness.